COOKIE & PRIVACY POLICY
PRIVACY POLICY:
Akilah Shearer understands that your privacy is important to you and that you care about how your personal data is used. We respect and value the privacy of all of our customers and will only collect and use personal data in ways that are described here, and in a way that is consistent with our obligations and your rights under the law.
1. Information
Akilah Shearer
Registered in Canada under company number 280961269.
Registered address: 2857 Morningside Avenue, Scarborough Ontario, Canada, M1X 2E4
Postal Address: 2857 Morningside Avenue Scarborough Ontario, Canada, M1X 2E4
The PIPEDA law from Canada
The PIPEDA Act requires covered organizations and other entities (businesses) to get a user's consent when collecting, using or disclosing that user's personal information.
Whatever personal information Akilah Shearer collects from users may only be used for the express purpose for which it was collected and nothing more.
Any additional use outside the original scope requires further consent from the user. Also, users must be assured that the information collector (the business, the website, the mobile app) will reasonably protect their information.
Any commercial activity that uses, collects, or discloses some kind of personal information is covered by the regulations of the PIPEDA Act in Canada.
Commercial activity means any particular transaction, act, conduct, or any regular course of conduct that is commercial in character, including selling, bartering or leasing of donor, membership or fundraising lists.
This would inherently include websites, mobile apps, Facebook apps, desktop apps. If all these platforms are operated in any of those capacities specified above, it's covered by the Canada's Act.
Shopify is based in Canada and their Privacy Policy informs users about what personal information Shopify might be collecting and how they are using that information:
For example:
If a business isn't generating any revenue from a website or mobile app, they still might be covered. If the personal information being gathered from users is used for future website and app development or to improve the experience of users on the website or mobile app, then the website/mobile app's commercial success is indirectly benefiting.
Therefore, it's covered.
Personal information can be a nebulous term. It could be anything that someone finds to be private in nature.
PIPEDA statutorily defines "personal information" to include any factual or subjective information, recorded or not, about an identifiable individual. This includes:
name
age
ID numbers
income
ethnic origin
blood type
opinions
evaluations
comments
social status
disciplinary actions
employee files
credit records
loan records
medical records
the existence of a dispute between a consumer and a merchant
and so on
As you can see, PIPEDA's scope of coverage is comprehensive.
Specific exceptions are excluded from coverage, such as personal information collected solely for artistic, journalistic, or literary purposes and information collected by designated governmental agencies.
The principles from PIPEDA
Canada's PIPEDA Act forms a base rule that there's an overarching obligation to maintain responsibility for the guarding of personal information and the fair handling at all times through the entire organization and in all third party dealings.
Businesses are compelled that any collection, use or disclosure of personal information must only be for a reasonable purpose.
Alongside this base rule, Schedule I of PIPEDA lays 10 Fair Information Principles that businesses must follow to remain in compliance with the Act:
Accountability
Businesses must be accountable. To fulfill this principle, assign an individual from your business to be responsible for active compliance with Canada's PIPEDA Act.
A business should take extra precautions to protect the personal information it collects from users. As a business owner, you should develop a series of policies to keep the collected information protected.
Accountability goes farther than just a business owner's own actions.
Any third parties that personal information is shared with obligates the original information collector to be responsible for any mishandling from that interaction.
Shopify (which started in Canada and has a local presence there) informs users that any third-party that Shopify might partner with is required to have a similar Privacy Policy as their own:

It reads:
Shopify may use third party service providers to provide certain services to you and we may share Personal Information with such service providers. We require any company with which we may share Personal Information to protect that data in a manner consistent with this policy and to limit the use of such Personal Information to the performance of services for Shopify.
Accuracy
All uses of users' information must be done accurately and appropriately. Personal information records must be kept complete, organized, and as up to date as possible.
Regularly used personal information must be regularly kept up to date.
Safeguards
Personal information that's collected through a website or mobile app must be protected from theft, loss, unauthorized access, disclosure, use, copying or modification regardless of how the information is stored.
The sensitive nature of the information collected, the amount of it and the extent of any breaches of safeguards are all taken into account when considering whether a business has met its duty.
Open Access
The policies must be clear and easily understood by a reasonable layperson.
Checkfront (based in Canada) provides a very easy to read Privacy Policy for users to learn what information is begin collected and how is it used: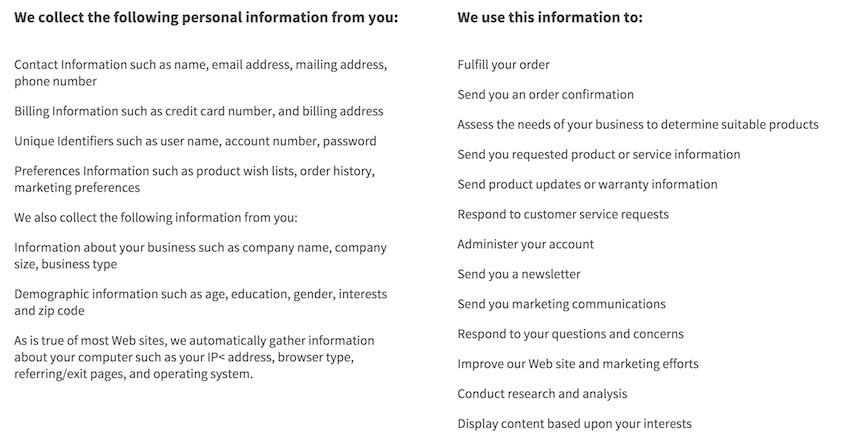 Individual Access
Individuals whose personal information has been used or given have a right to access that information.
Businesses, once requested, must inform users of all information the business has on them and provide full and accurate disclosure on how it's being used.
Challenging Compliance
Finally, businesses must provide some form of complaint procedure for users.
All complaints must be investigated to some capacity and corrective action must be taken if warranted.
11. How Do I Contact You?
To contact us about anything to do with your personal data and data protection, including to make a subject access request, please use the following details:
Email address: customercare@akilahshearer.com
Postal Address: 2857 Morningside Avenue, Scarborough Ontario, Canada, M1X 2E4
12. Changes to this Privacy Notice
We may change this Privacy Notice from time to time. This may be necessary, for example, if the law changes, or if we change our business in a way that affects personal data protection.